It was so so so special for me to be able to photograph this wedding.  I could not imagine a better match than Emily and Kyle.  It's funny because I believe that Kenzo and I called this match long before either of them realized how much they liked the other person.  I met Kyle during his freshman and my senior year at Davidson.  He was placed on the North Meck High School Young Life Team as a volunteer leader, and at the time I was the co-teamleader.  The following fall poor Kyle was on a three man volunteer team that consisted of Kyle, Kenzo and myself (who had then graduated and now worked for Young Life).  Kenzo and I were relatively new to dating, so he called himself "Papa Squeaks" or "the squeaky third wheel."  We had SO many laughs that year between the three of us!  Kenzo and I felt lucky to have that opportunity to get to know him so well.  While he was being Papa Squeaks, there was a cute freshman girl playing volleyball for Davidson and leading Young Life at a different high school.  That girl's name was Emily.  While they met and kind of knew each other that spring semester, no sparks were flying . . . not yet.  Kyle went abroad his junior spring and Emily decided to stop playing volleyball which in turn got her more involved in Young Life.  During that fall, spending time with Emily, Kenzo and I thought "she and Kyle are perfect for each other!"  Kyle got back from abroad and the two began to deepen a friendship that would turn into a romance that would bring them to this day: their wedding.
What a beautiful day it was!  They were showered in love and prayers from their friends and family who believe so much in who they are as individuals and who they are as one.  I eewwwd and awwwd at the photos while I was going through them.  The colors of the early fall leaves were perfectly matched to the colors of the bouquets.  There was this golden glow in many pictures that it literally looked like this bride was being kissed by sunlight.  She truly was a radiant bride beautifully dressed for her husband.  And Kyle was certainly a happy and handsome groom.
Emily and Kyle- thank you for being our dear friends!  Thank you for allowing Kenzo and me to be such integral parts of your wedding day.  We love you!
Gorgeous dress . . . and thanks to Duni, Becky and Allie for tying the ribbon and hanging it for me.
She is stunning.
This next series is fun . . . the top photo is a very-typical-Kyle face: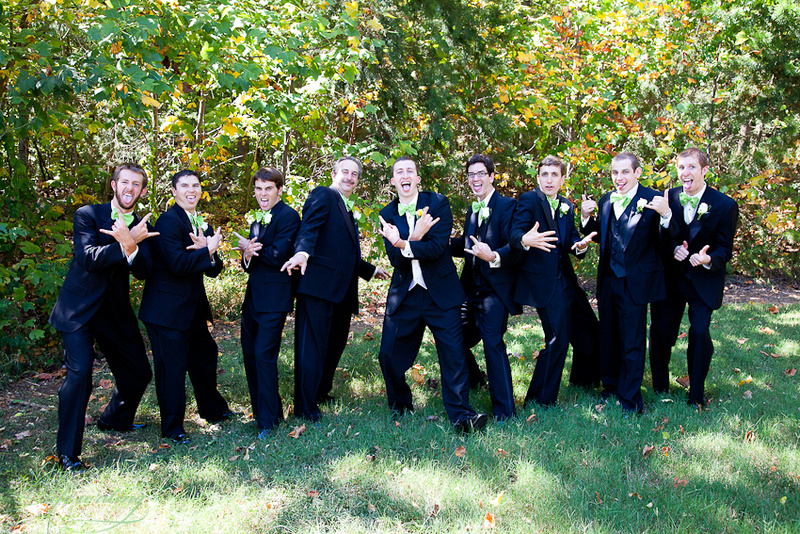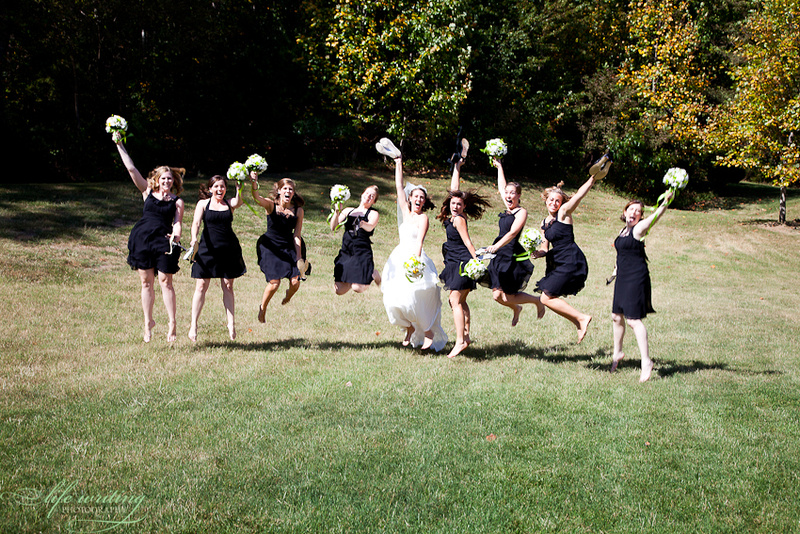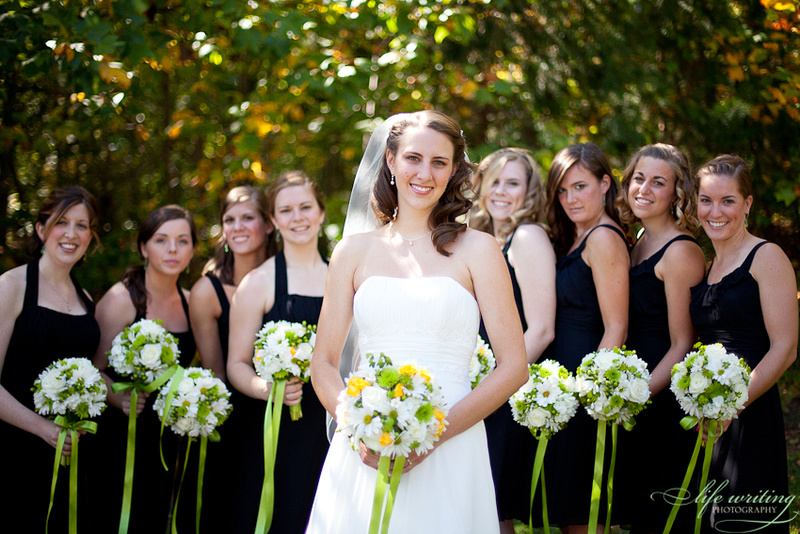 Then it was time to get ready for the ceremony.
In case you're wondering, yes, that is a fist pump.
We took some really fun "formals" outside (note to brides, IF you have this option, you should definitely take it, in my opinion outdoor lighting beats indoor lighting any day!) . . .
And then took several bridal party photos.  Here are a couple of my favorites.
Kyle, Emily, Kenzo and I snuck away for a little while and captured some of the sweetest photos ever (including the three top ones):
We then headed off to their reception at the Alumni Center on UVA's campus.
The boys from Deer Foot chanted a traditional camp wedding song to Kyle and Emily and I just happened to snag a money shot while lifting my camera above my head since the boys were too tall to photograph over.
And then, of course, the dance floor . . .
Click below to watch a slideshow from their day accompanied by two of their favorite songs: